4. Share algorithm
In the «Beta» version, the ability to «share algorithm» has been added. In simple words, you can copy the algorithm settings to the clipboard and send it to another MoonTrader user. After you receive the text with the settings, he can paste them into the new algorithm and use your strategy.

To copy the algorithm settings, go to the «Algorithms» tab and in front of each algorithm, there will be an icon to copy the settings. Select the desired algorithm and click on the icon (see screenshot above). After you click, all settings of the selected algorithm will be stored in the clipboard.
To send the algorithm in any messenger, in the input field, press CTRL+V to paste.

After receiving the text of the settings, you must in the same tab «Algorithms» click on Add algorithm.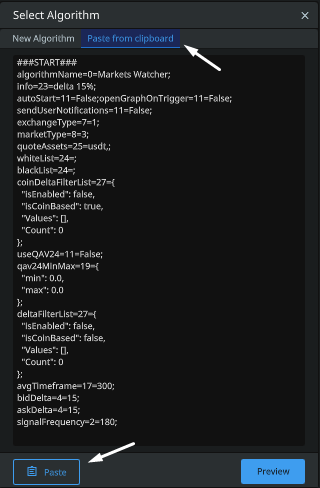 In the Algorithm type selection list window, click on the «Paste from Clipboard» tab at the top. Then click Paste and Preview. After that, you will open the algorithm settings, which you will need to save.
With this functionality, you can quickly optimize your algorithm with a colleague or comrade, sending it to each other after changing the settings.